by Shigeru Aso
The ancient Shinto manuscript, KOJIKI, is the first book ever written in Japan. It describes the colorful world of animism, our belief system in Japan that there are spirits and gods in everything and anything in the land of the rising sun. We refer to this as YAOYOROZUNOKAMI, which lierally means 8 million gods, that we have praised and worshipped throughout history. This includes the god of cannabis, the god of wind, thunder, etc. We basically have gods and goddesses for everything, and that is embodied into the deep psyche and spirituality of the Japanese people and culture.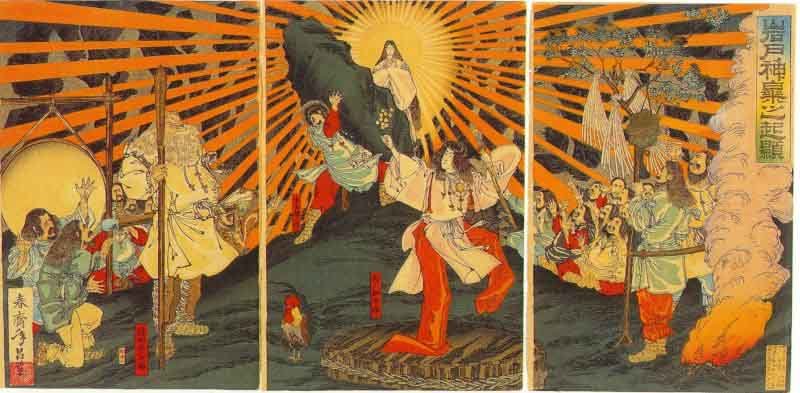 In this book, KOJIKI, there is a chapter called IWATOBIRAKI. This means the opening of the stone. In our mythology, AMATERASUOOMIKAMI, the sungodess hides behind a stone, and the world is covered in darkness and gloom. The other gods are freaked out by this, so they gather around the stone and they throw a big party to call the sungoddess back into the world to enlighten the land. In the end of this story, AMATERASUOOMIKAMI hears the noise of the party and gets curious as to what's going on, and while she opens the stone and peaks through the cracks, a Japanese powerful giant pulls AMATERASUOOMIKAMI out from behind the stone. Then the land was full of sunshine once again.
For further details on KOJIKI, information on this story can be easily obtained online, or perhaps at any big city library.
As marijuana activists in Japan fight the unconstitutional Cannabis Control Act, we have used this metaphor time and time again, as a symbol of the Japanese cannabis liberation movement. The Japanese CCA was established by the General Head Quarters(GHQ) lead by Douglas McArther right after the war as an industrial solution to enrich the chemical fiber industry.
Japan has always been living with cannabis, and it was seen in our beautiful nature alongisde rice patties and in mountainous areas. At one point, during the war, our government encouraged to grow cannabis in order to make up for short supplies.
Now the fucking government burns millions and millions of cannabis plants that grow naturally throughout the land. This is nothing short of environmental terrorism, and destruction of natural resources and habitat. Besides, why burn perfectly fine weed, without inhaling it. I refer to this weed as Cannabis Japonica.
Our history is rich with Haiku's and stories about cannabis. The emperror of Japan has a tight connection with weed as well. When the last emperror died, the government arranged for cannabis to be grown for one year in Shikoku prefecture in order to use in ceremonies for the heir apparent.
At any rate, as more and more of us declare civil disobedience to the Cannabis Control Act, we shall open the stone once again, and our land shall flourish with light and cannabis. Let's get stoned!